Yesterday's Twitter feud between business tycoon Elon Musk and the crypto community had far-reaching consequences beyond the constant verbal sparring on the popular social media site. It was a disaster for the crypto market.
Liquidation galore in the crypto market
According to ByBit, a total of $ 2.4 billion worth of longs have been resolved in the past 24 hours due to the market crash caused by Elon Musk's bearish bitcoin tweets. Similarly, the total value of long liquidated positions over the past 12 years is $ 1.16 billion.
"We are concerned about the rapidly increasing use of fossil fuels for bitcoin mining and transactions, especially coal, which has the worst emissions of any fuel," Musk said in a statement posted on Twitter last Wednesday. "Cryptocurrency is a good idea on many levels and we believe it has a bright future, but it cannot come at a high cost to the environment."
A total of 303,836 traders have been liquidated in the past 24 hours, with the highest single liquidation order at Huobi-BTC valued at nearly $ 90 million.
Among the usual top digital assets like Bitcoin, Ether, XRP and others, almost $ 43 million in SHIB longs have been liquidated in the hot cryptocurrency SHIB, which has become increasingly popular due to the growing popularity of Dogecoin.
The market was just as unforgiving for short sellers. According to ByBit, short positions totaling $ 441.5 million were liquidated yesterday due to volatile price movements in the crypto markets.
According to Datamish, long positions worth $ 34 million have been liquidated on BitMEX alone in the past 24 hours, while 417 BTC have been liquidated on Bitfinex.
Related article | Raoul Pal calls out Bitcoin Maxis for her role in the market downturn
Bitcoin dominance continues to slide
The digital flagship of the global cryptocurrency industry is losing market share as its market dominance declines. According to reports from CoinMarketCap and Coin360, Bitcoin now has a market share of around 40%.
Ethereum (ETH) is currently the second most popular cryptocurrency after Bitcoin, with a market share of 19.3 percent at the time of writing. Binance Coin (BNB) has a dominance of 4 percent, Cardano a dominance of 3.3 percent and Elon Musk's favorite coin Dogecoin a dominance of 3 percent. In January 2018, Bitcoin dominance fell to its lowest level of 33% for the first time.
According to its exact market capitalization, Bitcoin fell from over $ 1 trillion to $ 843,071,072,876 a few weeks ago. Ethereum's market cap is almost half that of BTC at $ 404,613,783,369, while Binance Coin, Cardano and Dogecoin capitalizations have dropped to $ 81 billion, $ 69.4 billion and $ 65 billion, respectively is.
There are two upcoming eras that must be ushered in from now on. First, it's a bearish market where the price of all assets is falling after previous bull runs, and also a trip into an old season where alternative digital currencies will outperform valuation. In this case, Bitcoin's fundamentals and the positive sentiments that come with it help Bitcoin retain greater dominance over altcoins. In this case, the combined altcoin dominance, which is currently 60.1 percent, is likely to increase in the near future.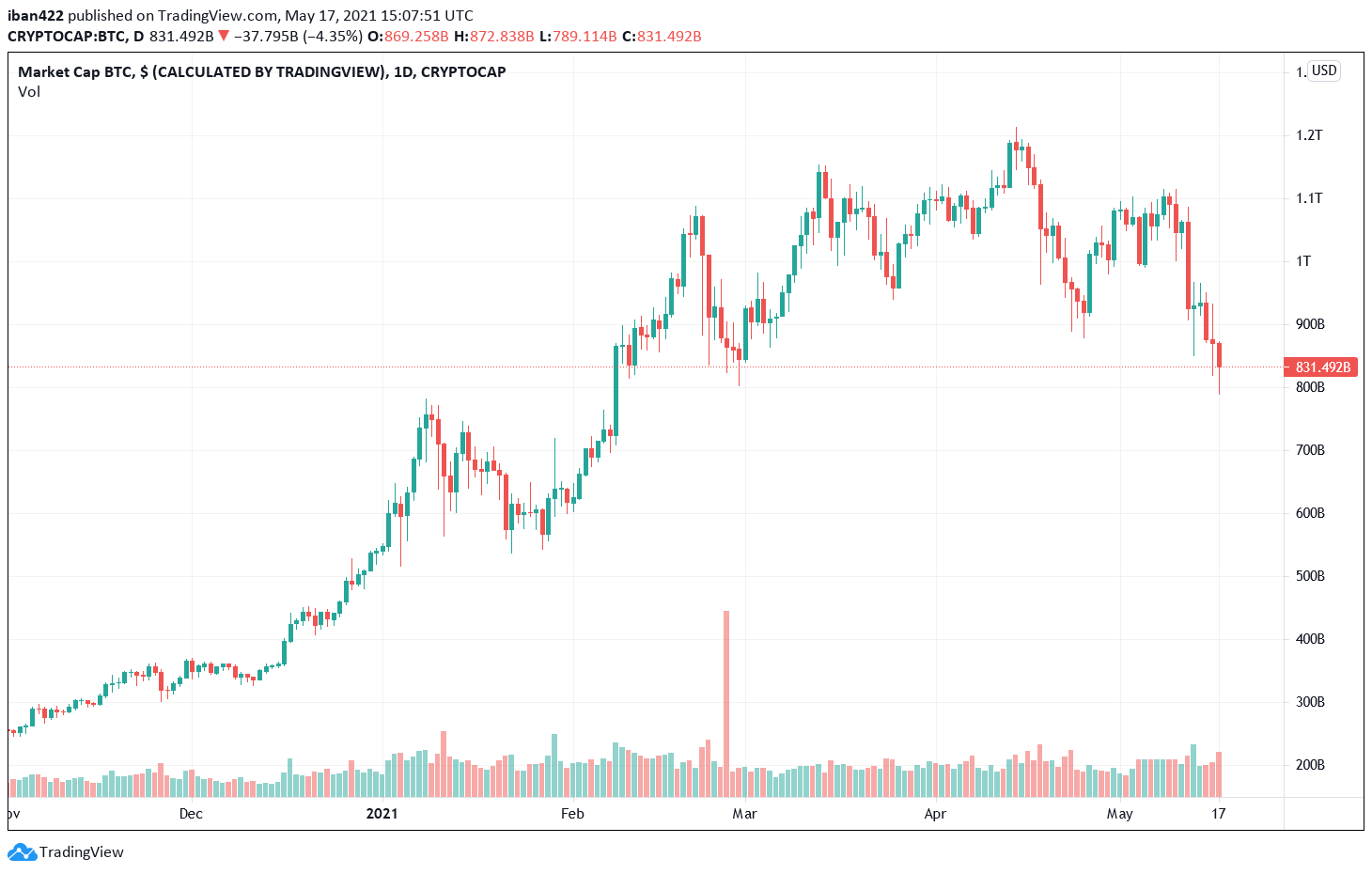 Related article | Bitcoin price drops just over $ 42,000 as exchange rate inflows continue to rise
Featured image from Pixabay, Charts from TradingView.com